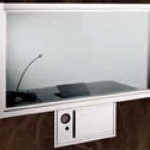 11 Jun

Drive-Through Equipment

Drive-through systems offer more than convenience, they're practically a necessity to attract and retain customers. And as technology is advancing, so are customer wants. Just having a drive-through isn't enough. Customers expect easy access and quick, efficient transactions. Black Mesa helps you make it happen.
For Banks and Credit Unions
Based on decades of designing, installing and servicing drive-up solutions for financial institutions, Black Mesa offers several different system options to meet a variety of customer needs. Whether it is down-send replacement units or the new, two-way audio/video modules, lane lights or form dispensers, Black Mesa has the right solutions for your financial institution.
For Pharmacies
Drive-through pharmacy services are becoming commonplace in the industry. And for good reason. They help pharmacies address the special needs of parents with young children, handicapped and elderly patients, and people with busy lifestyles looking for convenience.
Whatever your drive-through needs, Black Mesa can design a system that fits them and your budget.
We offer many configurations for pharmacies. Popular options include bullet-resistant windows, complete with a transaction drawer. Another is our remote drive-up lane, which uses the latest innovations in pharmacy applications. Designed specifically for fragile pharmacy content, it ensures protection from impact.
Black Mesa drive-through systems: keeping your employees safer while giving your customers the convenience they want.
Undercounter Steel
Securing your teller line and drive-through stations with steel undercounter protects both your assets and employees. Integrating this equipment with your security system is what we do best.
Black Mesa makes it easy.
Vaults, Vault Doors and Safes
Nobody knows security like Black Mesa. Our safes and vaults are made by industry-leading manufacturers and installed by our professionals. We take the worry and hassle off your shoulders. No matter the need, Black Mesa has the products and professional advice to be your safety net: safes, vaults, door locks, safe locks, and safe deposit boxes.